2016 Top Naija Music Awards Shorlisted Nominees (First & Second Batch)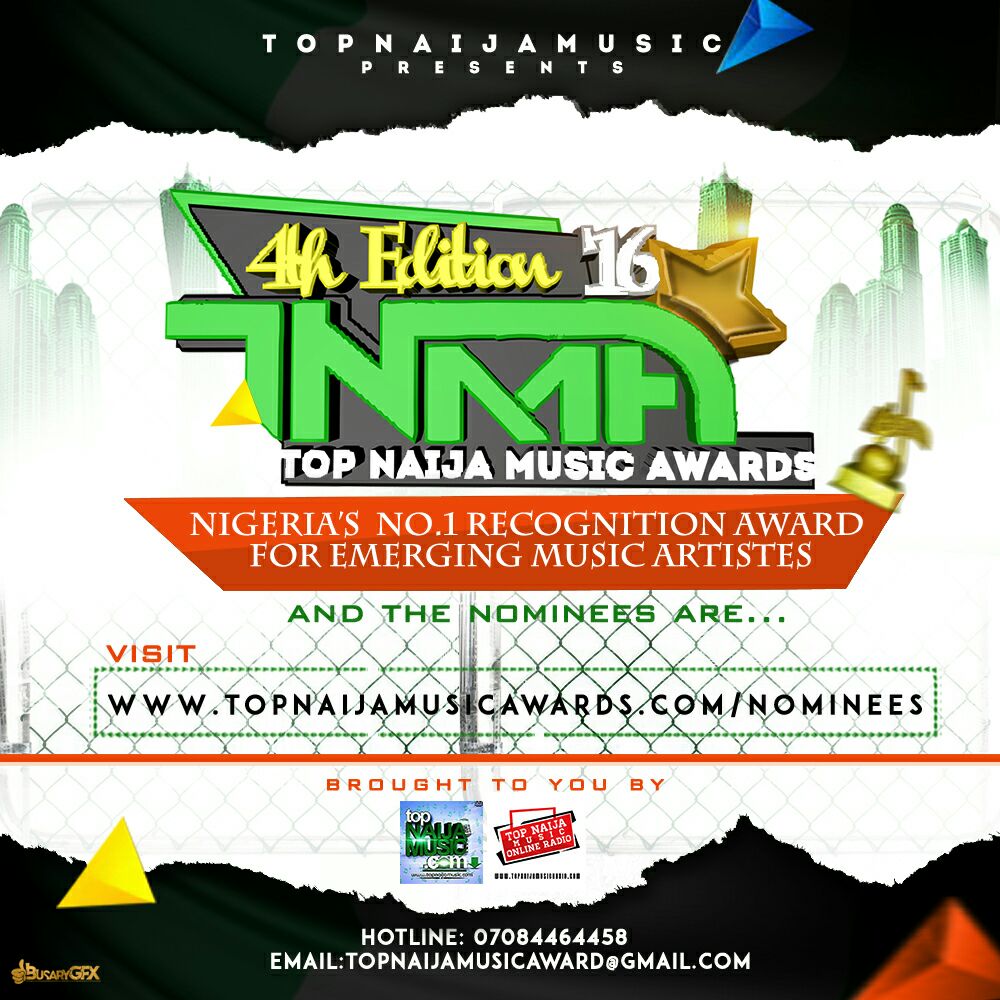 After a long wait, we are happy to bring you the full and complete nominees list of Nigeria's No 1 music award for emerging music artistes, the prestigious Top Naija Music Awards.
It took us so long to compile these lists because many artistes didnt do exactly as stated on the form. They didn't comply with what the form filled required. So we had to start searching everywhere on the internet, from Google, to Twitter, Facebook,  blogs, instagram etc to vet the entries which took us so much time.
The names of the first batch that came out earlier didn't cause us any issues because they were nominees who had their songs already either on our music promo website www.topnaijamusic.com or music radio www.topnaijamusicradio.com. This is the reason why we encourage artistes to get their songs and videos on our platform. Its also for occassions like this.
Our of the over 1500 entries received from all over the world this year, below are our official nominees for 2016. Congratulations!
Voting link will be open by exactly 12noon on the 4th of December and will close by midnight of 24th of December, 2016. The winners will be announced in a twitter event by 5pm on 26th of December and the award presentation ceremony will hold in Lagos on Friday January 6, 2017. 
AND THE NOMINEES ARE …
1 – ARTISTE OF THE YEAR
KOKER
TOBY GREY
MZ KISS
NINIOLA
PEPENAZI
MAYORKUN
DREMO
SUGARBOY
SKIBII
TJAN
TEMMIE OVWASA
MR EASY
2 – MOST PROMISING ARTISTE
KING KEV
BANCO
DOYINSOLA
NAOMI MAC
BLAST CHAMP
YUNG L
3 – BEST HIP HOP SINGLE 
BLESS MY HUSTLE – JIGI JAY
AINA – KUBULEE
SHAKE IT – LACON
ON YOUR VEST – GEEZY H
ON THE RUN –  SHADY MODERINO
DE THRONE – YOUNG LETE
LEARN WORK – PETER BRIL
ODARAN (CRIMINAL )  – DIDOMZ
JET LI – TAZZ
LUV DONT DIE – KALASH
MA KPA DA – FORBS ZHILAH x ACETUNE
POWER  – TOYE FT BAOSS
DUNIYA – DONGETI
SHOTS – SIQ
4 – BEST RAP SINGLE
PHOCK BOYS – 3KEY
GENESIS – KHARU-KHELZ
AYO DAT – KELLZ
TALKING ABOUT – CHRIZBLINGZ
POWER BAN – JAY COLLINZ
HAIL US – SUNNEPACK JEAZEY
BLESS – AKINFELAY
MOTIVATION – BAWZ CARTEL
DAYANMO (RECOGNIZE)  – SYDON J
NIGGA WEY DEY FLEX – MAPHIAN
IDOMA PHYNO – LEO WIZ OMALE
FCUK YOU – TUSLEEM PISCES
WHERE YOU DEY – SUPAWHIZ
BEN JOHNSON – H-CIEN X JSKILLZY
SHUTTING DOWN – KELT DEE
FLOWMISTER – JUE ESE
KOSHI – CHEDDAZ
ORI EH – DECOO JAY
KONFAM – SIRFRESH SEMI
LETTER TO THE MENTORS – EMPEROR & ITZ_TEGA
RAP MOOD Ft. LIL JOJO – BORISS GEE
80-BARS OF CRIMES – OPSY-Q
SHEBI – MODALLAS
IYAAYA ANYBODY – REMYRASH FT MR SPLINT
5 – ARTISTE TO WATCH 
EMA-X
VICKEY AVICKS
OLA'CJ
SLY BANKS
CAPTAIN
OPYNCO
JAYPHIL
YUNGKIDO
ECRIS
GINA CEPHAS
EXBROWN E
MR VEE
J.CLONE
HALLE
DIDI
DAVIDB
LAMORIN
WOLFY
INTEGRAL
ABBEY BASH
MUNA DEPP
6 – BEST FOREIGN BASED NIGERIAN ARTISTE
LYRICS LASISI – SOUTH AFRICA
DICE – SOUTH AFRICA
TOBINSCO – BENIN REPUBLIC
VIRUZKIDD – CHICAGO, USA
ARIKIBOY – BELGIUM
KBELL – FINLAND
SEYI OTS – CHICAGO
DJ GURU – SOUTH AFRICA
PRINCE GBASI – UK
DJ ACTIVITYZ – NORTH CYPRUS EUROPE
BIMBI – LONDON
MARVELLOUS – CAMBRIDGE, UK
CATCH 22 – USA
7 – BEST COLLABORATION
SPICE B – JOWO FEAT DOYINSOLA
C-BLAZE FT KHARU KELLZ – BLESSED
KIDDO – IKEBE REMIX FT SUNNY J X MAHRIZZI
BUZZ BOSS FT OGA MICKY – WACK RAPPER
CIXQO – STREET FT YUNQBLOOD, POMPAY & STEVENTONES
OMAA – IYA NI WURA – FT YHORMZY LEE
DJ NAIRA FT BLACKITL & LUCREEZ – INA THE GHETTO
DJ TIMIC FT AIIBEEKAY, YANKY, AJ'MYKEL, RAXX, SPECTACULAR & WYTTE – MUZIQ(ORIN)
LOULA THA REALWIZKID – EAST SIDE NIGGAS
DACOKE IBILE FT ABD MARLIK & WIZBLAZE – ORE META WERE KAN
IBN – 911 ft B.O.C
GODZZY – MAKING MONEY FT PHYNO
YOUNG OCHA – AUNTY ANA FT SMALL DOCTOR
BOBBY T FT SMALL DOCTOR – BLESS MY HUSTLE
YUNGQRIS X RAPSODEE – MAMA
RILLZ X BORINTHE – CORRECT
STUNZY & TEMPLE – NO JESUS NO SWAG
YUNGSOLJA – BUKATA
1 MORE LIFE – WEDDING DAY FT FEMMY RHYTHM
GTYME PARAGON – FANATIC FT JAEH WILLIAMS
DJ FLEXY FT A-COOL – EVERYTHING IS MAYA
MIKKY – COMFORT FT NAYME HARVEY
8 – BEST AFRO RAGGAE SINGLE
BE MY GYAL – D'ROYAL SWEET
I AM WAITING – MICK J
MY GIRL – PREZZY VYBZ
SUGARCANE MAN – TAMI KING
FREAK – SYLLABLES
INSPIRATION – ISAAC MACROCK
ARIWO – PUPA LIKKLE TEE
9 – BEST AFRO POP SINGLE
CARRY ME GO – CIMBOL
SUTO – JAYPEE (formerly  Saint JP)
ITA ITA DANCE – STARCHAMP
GOOD LIFE – OLUZY
ADAURE – APRIL
ZIBAZIBRAVE – NO TIME
FOLLOW YOU GO – VJ
IFE – BEL MAJIQ
YKC => KULUNBU
BAMITEE – PROTOCOL REMIX
PHREEFLEX – OMOLOMO YEN
WENEW – JAIYA
OSCKIDO – FEVER
MILADOPLUS2 – DEMO
DESSY BRYCE – POGODO
PRINZOSKI – MELINDA
BRAINE – LOBATAN
RE-ROLL – KLEFBEATZ
ROYCE – TAKIN OVER
GONDY – BIKITA
GREGG – JEJE
TYP – BAMIDELE
DULLING DIZZLE – GO LOW
CHUBBY – BEING A BOSS
WTEEJAY – OWO LOSE
BLIZZI – ROBO ROBO
GABZEEY – LAMBA LAMBA
RUNNJOZZY – JEJE
WALID WALS – SANDALILE
TOJU – BADMAN
RAGZ – BABARIGA
EAYO – REPETE
9JAKID – WHYNE IT
CEEZLE – COMBINE
OLUMIDE – DEN DEN
FLEX ROYALTY – BLESS ME
MISTA AWESOME – OLUCHI
TEDDYBLAQ – SWEET PAW PAW
SAMSEYI YANGO – AREWA OMOGE
SAMMYJAYZY – CONVINCE UR MOTHER
IYO – KO KAN WON
MSTAR – BEREMOLE
10 – BEST GOSPEL SINGLE
LETS GATHER ROUND – RAFFO
OGHENERO – RAIN ON ME LORD
AYODEJI SOULS – ABIAMO
ST. KENNY – AKACHUKWU
O'TOBI – AYO  (ft. BEN DA POET)
SUPREMEZ – ILLUMINATE
PRINCE KENNY – SOLDIER OF THE LORD
MAXWELL – KO LE YI PADA
FORTUNE EBEL FT SAMMIE OKPOSO – EZE MO (MY KING)
FREDO – AGABA
ODUNHANZ FT TUNE KHALIFA – OLUWA TI SE
JAYLAW – IMELA
CHOOKAR – HALLELUIA
MAZEE BLANKE – EGBEGA
11 – BEST MUSIC PRODUCER
PTONZ
BAYOLOGICBEATZ
KING FLAME
NERO SPARKZ
LIVEBEATZ
VYNCHIE
LUSSH
SOWNICK BEATZ
GREENWOX
FINGERTRICKZ
OXYGEN OGABEATZ
TYANX
12 – BEST RNB SINGLE
MY HEART GO – XTRA
SADE – KEZREEL FT SEAN DICKSON
GOOD LOVING – HUMABLINGS
OLAWALEMI – DONT BE FAR AWAY
VAL DOZZY – ALL NIGHT
TUSPARK OGEBE – FOREVER
TIFF MY HEART – IVON JOSHUA
LAIDE CHARIS – CENTRE OF JOY (OLOLUFE)
NIYTENOR – SOLEMN MOOD
JOE CUTE FT SOLOBIZY & RAPSON – MY GIRL
TUSH – SEXY MUMMY
TEEDEEVEE FT OLUWADAMILOLA – FEELINGS FOR U
FAIZ – ENDLESS LOVE
13 – BEST TEEN ACT
LILCHI
BROWNY
IJESKEE
V.TORI
SEAN VEE
CHIMNEY
SEANCRUZ
THE COLOSSUS
BLACKJACK
DIZZY D BOYWUNDER
O.L.A
14 – BEST SONG COVER
JAGABAN (freestyle) – KRIZEAL
WORK (COVER) – KIDDA PORSH
JAGABAN (COVER) – SUPERSAM
KELLY JOE – BAD MUSICIAN BAD PRODUCER
JAYDE RICO – PANDA (COVER)
PROSCKILLZ  – EVERYDAY (LIKE TO PARTY COVER)
KUDDY CHRIS – ONYEGWU (ORINGO COVER)
OLIVER – MUSEYA (BANKY W'S COVER)
SHEGXY – FERANMI
G.GRADE – PANDA FREESTYLE (C.M.C)
ENIOLA – WHO YOU EPP?? (COVER)
SKIPPA – JAGABAN (COVER)
CELEBRITY BOI (CELE-BOI) – BE THANKFUL (WOJU COVER)
IEJAY – MOVE CROWD(PANDA COVER)
KANZEE FT SLASH P -THE POWER
15 – BEST SONG WITH A MESSAGE
VCENTINO – HUSTLE MA PAY
BARNY O  – BETTER LIFE
NKYJOYE – EVERGREEN
EWIZE MBAMARA – MAMMA MI
EWOMA – HEALING PAIN
JUSSY J – JEJE (EASY)
EHL BHORZ – LIFE OF A STAR
JUBOIL
WALE SAX FT WOLI AROLE, A'DAM, BABATUNMISE & OLAOBA – GBERA
GREEN ALLSTARS – PROUDLY NAIJA
OGOCHUKWU – TO BE A WOMAN
BELIEVE ROLAND – CHILDREN ARE THE FUTURE
16 – BEST SONG/SOUND RECORDING
SHANGBANA – TEEMZY
NEZZY – BAMIJO
JESSE AKERELE – SIMPLE YES
J. SMART – KE CHE
T.PRAIZ – PRETTY LADY
JADDO – YOU KNOW
MUK-J – PAMELA
17 – BEST COMMERCIAL SINGLE
FLEX – YOUNGIYOO FT JAZZY BABY
STARKID – EFIMILE
FLEXIE – MOLENU FT B.RHYMES
YEMOVO – FIRE ON
18 – BEST MUSIC VIDEO
K-DREAM – OIL (SHOW DEM)
IJAYA – AGOLO
RAYJACKO – YOUNG EVOLUTION
COZY – BAD HABIT
INSPIRE – SHE LIKES THE SONG
8L feat TOCKY VIBES – MAININI RMX
WONDABOY – B.A.D (Beautiful African Diamond)
YOUNGLUCK – GBEMIDEBE
SCOPYLINKY GALAMISHY FT T FLOWZ TAIKAIOSHIDANUGA
IBK YOUNGSTAR – LITTLE GIRL SWAG
19 – BEST DANCE HALL SINGLE
MICE – JUBADI ft OJD
VALUE – SERE M KAMBIA
EJITEST – SEXUAL HEALER
STORMY GOLD – PARTY RIDER
ROZZADY – WAKE UP
CYNIOR STAR – KOMOLE
RICHKID – IKEBE
MISTA AWESOME – OLUCHI
HUMBLE J – SO FINE
BREEZEY – MUJO
DON DANNY – ALHAJI
DORA JONES – JEKALO
JORELL PHILL – BODY WAVE
K-SNOW FT. GREAT S – LETS DANCE
BOLA BEE – LOVE YOU
PAPI-KHIZ – CO-OPERATE
BAS – MY BODY
20 – BEST GOSPEL SINGLE
MY DESIRE – THE BLESSED SOULS
OKMYQE – OMO JESU
OSAKS – SOULJA BOI
OLUDREY DARE – MY GRATITUDE
ZEECKO JOHNSON – JAH IS MY LIGHT
DASON – JIJO
EKENE – EZICHINEKE
BABATUMISE – OGO OLA FT KENNY KORE
EZE PROGRESS – JAGI
CLIFFORD – YOU ARE GOOD
CORBAN – IJO JESU
MICHAEL UMOH – FOREVER
21 – BEST DJ 
DJ SOURCE
DJ BIGGI
DJ X
DJ HAZ
DJ HARKYM
DJ BLINKZ
DJ MEKS
DJ JOSPA
DJ FEMFAD
DJ TOF
DJ DREXX
DJ CHIGO
DJ SUNYFASH
22 – BEST LYRICAL EXPLORATION/LYRICIST
RHOMBOOZ – BAWANI SEGE
M.WILZ – MEET ME AT THE TOP
HORSHO LEE – RAP MEDICATION
I NEM – BAD BELLE
DAVICTIM FT DJ COUBLON RHYTHM & POETRY
23 – BEST CAMPUS MUSIC ARTISTE
SWEEZ – UNIBEN
FEOLA OLOLA – FUTA
BLIZZI – KADUNA UNI
JAY LAW –
DAMJEK
IMMA – ILORIN
L.T.B – FREE ME
24 – BEST ALTERNATIVE SINGLE
LATMUS – MAM AFRICA (OREKELEWA)
OBEDU – TEMI WURA
TUNJIZY – HAPPY
T-ROLLET – EASY LIFE
SAMMY ONLA – ALABARO
TIMZIL – BACHELOR FOR LIFE
25 – MUSIC VIDEO DIRECTOR
DIRECTOR K
EYE BALL MEDIA
IROK VISUALS
DA' MUVEE VISUALS
26 – GOSPEL MUSIC VIDEO
OLAPRAISE
DAIVEED
A'DAM
27 – BEST MUSIC DUO/GROUP 
STEWARDS CREW
THEO B & ESTHER
D ORIGINALS
RAZ GANG
CLICK HERE TO DOWNLOAD MOBILE APP NOW
CLICK HERE TO PARTICIPATE IN 2017 TOP NAIJA MUSIC AWARDS 
WE ANNOUNCE THE LAUNCH OF OUR CHRISTIAN ONLINE RADIO CALLED "CATHOLIC MOBILE RADIO" FOR CATHOLIC AND CHRISTIANS ALL OVER NIGERIA. CLICK HERE TO LISTEN!